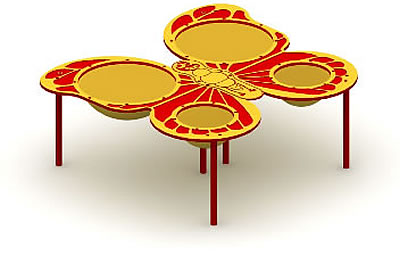 Mother Nature brings her nicest designs to your playground! This fun sand & water table is made from high-density polycarbonate, so it won't rust or split. It also cleans easily. This model has four bowls. Give your kids a fun, visually-appealing play unit that will keep them scooping, shoveling, and splashing for years to come! Dimensions: 76″ long x 66″ wide x 24″ high.
Price: $1,350.00 Unit# SWT-00006
If you have any questions about the Flower Sand & Water Table,
phone us toll free at 877-840-0707
Construction and Installation In the Washington, D.C. and Baltimore metropolitan area, Maryland Materials furnishes and installs playground equipment. We can also move existing equipment, and demolish obsolete, dangerous playgrounds. Other related services include grading, drainage, resilient surfacing, borders, and retaining walls.