The 5′ x 10′ sandbox from SandLock is the mid-sized sandbox package that you've been looking for. It includes the sandbox, a vinyl cover, and 4 removable corner seats. Every SandLock model ships by UPS, right to your front door. Each one has a 10-year warranty.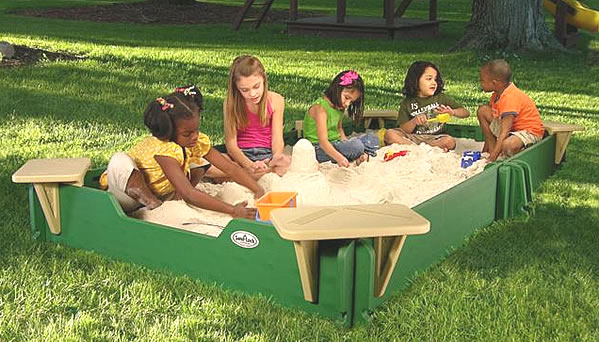 MATERIALS
The sandboxes are made from commercial grade solid plastic with UV stabilizers. Each plank is sturdy yet completely smooth. There are no splinters, and no rusting.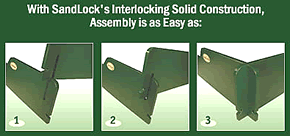 DESIGN
The 5′ x 10′ sandbox measures 59″ wide x 118″ long x 10″ high and has six interlocking panels with couplers that each measure 10″ x 59″. You'll be impressed by its clean lines and solid construction. The 6 panels have slots cut into them. They slide together easily, overlapping and locking together. The design is child-friendly and fool-proof!
SANDBOX COVER
Every SandLock sandbox comes with a free sandbox cover. They're made from Coverlight, a tough, vinyl-coated polyester that's used for many industrial/commercial applications. It's strong, lightweight, and resistant to both tears and water.
Each sandbox cover has a 5/16″ shock cord sewn into the inside of each corner. When playtime is over, you simply place the 4 mini-chairs in the middle of the sandbox. Then pull the cover over the sandbox and loop the shock cord under each corner of the sandbox. The chairs create a bump that prevents rainwater from gathering in the middle of the sandbox cover.

SandLock 5′ x 10′ Sandbox includes sandbox, vinyl cover, 4 removeable corner seats,
a puncture-resistant ground barrier, & a 10-year limited warranty!
Price: $699.00 (Unit# SLB-60120)
Do you need a Sandbox Cover?
(Free shipping on all weighted edge Sandbox covers!)
The Weighted Edge Sandbox Cover is very popular with daycares, schools, business owners and even home owners. These covers come in either a sold vinyl top or a mesh top. They are not only high-quality, made in the USA covers, but the edges are weighted down, which allows them to be placed over the sandbox firmly. Please click here for more information and pricing.