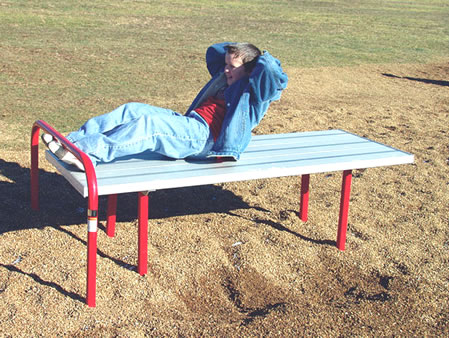 This classic sit-up station turns the clock back on exercise. Sit on the platform, tuck your feet under the end-piece, and give your abdominals the work-out they've been needing. Good for crunches, too. The heavy-duty horizontal aluminum platform is strong enough for any athlete.
Dimensions: 6′ long by 2'6″ wide x 1'6″ high.
Ground space: 6′ x 2'6″
Use zone: 18′ x 14'6″
Sit Up Station weighs 80 lbs. total. (Unit #511-114)
$1,272.00 with painted bars, $989.00 for unpainted bars
---
Stumped by the Sit-Up Station? Call us TOLL FREE.
 In the Maryland, Washington, D.C. and Baltimore metropolitan area, Maryland Materials furnishes and installs playground equipment. We can also move existing equipment, and demolish obsolete, dangerous playgrounds. Other related services include grading, rainage, resilient surfacing, borders, and retaining walls.