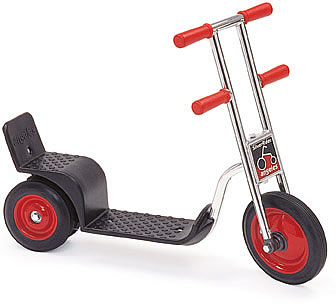 This pint-size scooter lets kids zoom around the playground with built-in safety precautions. The back end has 2 tires, not 1, which increases stability. And the front fork has 2 sets of handles, so the smallest kids can clip along without overreaching.
Solid rubber tires
Spokeless steel wheels
Recessed hubs on all wheels
One-piece welded crank
No pinch points with steering limiter
Durable chrome plating
Long-lasting, self-lubricating nylon bearings
Mr. Good Pedal lifetime service available
Ships fully assembled
5-year guarantee
SilverRider® Skitter Scooter
#AFB 1800SR , Price $199.95
(Recommended for Ages 4-8)
Handlebars: 21″ H and 27″ H
Weight: 27 lbs.
Unique double handlebar design
Solid rubber tires
Three-wheel stability
Non-skid polyethylene foot plate
Ships fully assembled
5-year guarantee