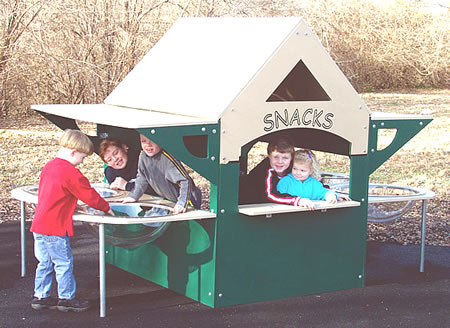 Belly up to the Sand and Water Snackshop for all of your playground fun! There are 4 tables that kids can use to mix up their favorite sand and water creations. This table is ADA compliant, offering plenty of clearance around the structure for wheelchair access. The structure is made from high-density polycarbonate, so it won't rust or split. It also cleans easily. Kids can use either water or sand in the bowls — or both!
Actual Size: 6′ high x 9'6″ wide x 5′ deep. Use Zone: 15′ x 18′.
Weight: 870 lbs. Manufacturer: SportsPlay.
Unit#: 902-827 Price: $6,179.00
Add $20.49 for model with drains on the bowls.
If you have any questions about the Sand and Water Snackshop, phone us toll free at 877-840-0707
 In the Washington, D.C. and Baltimore metropolitan area, Maryland Materials furnishes and installs playground equipment. We can also move existing equipment, and demolish obsolete, dangerous playgrounds. Other related services include grading, drainage, resilient surfacing, borders, and retaining walls.