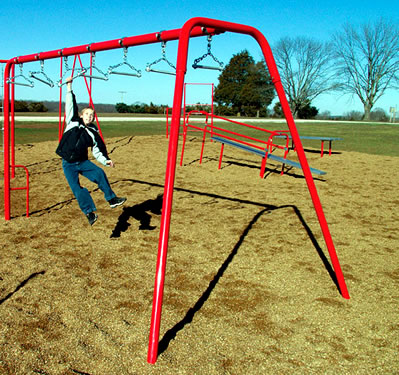 Take to the air with our fun Swing Bars.
These Swing Bars are like a horizontal ladder, but instead of horizontal pipes, there are swinging grab handles. The grab handles swing in place, making kids focus on hand-eye coordination as they build upper-body strength. The horizontal rail is made from galvanized steel tubing that measures 3-1/2″ outside diameter, while the uprights measure 2-7/8″ and 2-3/8″ outside diameter.

Dimensions: 8′ high by 7′ wide x 15′ long.
Ground space: 4′ x 8′. Use zone: 16′ x 20′. Weight: 220 lbs.
Pole Climb (Unit# 511-119)
$2,000.00 with painted bars, $1,553.00 for unpainted metallic bars
---
Stumped by the Swing Bars? Call us TOLL FREE.
Construction and Installation
In the Washington, D.C. and Baltimore metropolitan area, Maryland Materials furnishes and installs playground equipment. We can also move existing equipment, and demolish obsolete, dangerous playgrounds. Other related services include grading, drainage, resilient surfacing, borders, and retaining walls.