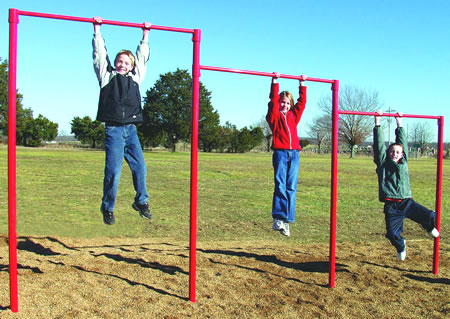 The classic fitness structure . . . 3 heights for hanging around!
These triple horizontal bars are great for doing pull-ups or just hanging around.  The heights are adjustable to 8′ when the set is installed. Each horizontal bar is 5′ long. The bars measure 2-3/8″ outside diameter. Ground space: 1′ x 15′.
Triple Horizontal Bar set weighs 110 lbs. (#501-876)
$902.00 for painted bars, $701.00 for unpainted metallic bars
---
Questions about the Triple Horizontal Bars?
Call us TOLL FREE.
Construction and Installation
In the Washington, D.C. and Baltimore metropolitan area, Maryland Materials furnishes and installs playground equipment. We can also move existing equipment, and demolish obsolete, dangerous playgrounds. Other related services include grading, drainage, resilient surfacing, borders, and retaining walls.