The "Up Top" commercial playground structure gives you fun for 30 kids, at a great price. It has 2 slides, a rung ladder, and 3 play panels. Even better, you can choose the play event that connects 2 of the platforms: choose a Crawl Tube or a Bone Bridge. Even better, there's no concrete needed to install this structure. Just assemble the unit in place, then drive the vertical spikes through the baseplates at the bottom of each post. No fuss, no muss — just fun.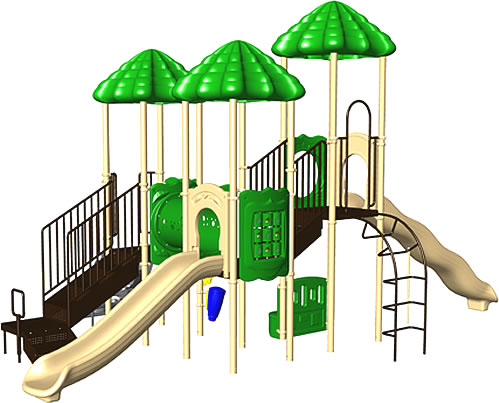 The fun on the "Up Top" play structure goes vertical (with 2 slides) and horizontal, with a Crawl Tube/Bone Bridge deck link option (graphic above shows the Crawl Tube option).
This reverse view of the "Up Top" structure shows the unit available in a red, blue, and yellow color scheme. It also shows the Bone Bridge deck connector option and the Ultra Mountain Climber option (color gray).

Ages: 5-12
Deck height: 4' & 6′
Deck: 36-3/4″ punched steel, plastisol coated
Post Diameter: 3.5"
Posts: 13-gauge galvanized steel tube, powdercoated
Plastics: Heavy-duty rotomolded & blow molded components
Activities: 10 events
Capacity: 20-30 kids
Critical Fall Height: 72"
Use zone: 40' x 31'
Dimensions: 28' x 19′

Play events include:

Straight Slide
Wave Slide
Choose either 4′ Ultra Mountain Climber or 4′ Vine Climber
Choose either Crawl Tunnel or Bone Bridge deck link
6′ Rung Climber
Window Panel
Game Panel
Bench Panel
Drums
Rain Wheel

Prices

"Up Top" Structure $10,711.00†
Or $11,020.00† if you substitute the Deluxe Rock Climbing Wall for the 6′ Rung Climber

† Price excludes shipping and handling.

---

Got questions about the structure?
Phone us today toll free!
Construction and Installation
In the Washington, D.C. and Baltimore metropolitan area, we furnish and install playground equipment. We can also move existing equipment, and demolish obsolete, dangerous playgrounds. Other related services include grading, drainage, resilient surfacing, borders, and retaining walls.