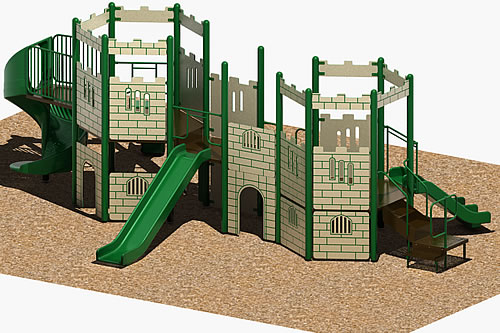 This great Castle Play Structure is designed for ages 5-12 years. It offers hours of fun. Features include:
• Spiral slide
• Triple rail slide
• Wave Slide
• Double wall slide
• Chain net climber
• Transfer station
• Many upper decks
• Many lower areas
• Castle panels with windows
Manufacturer: SportsPlay
Unit Dimensions: 25′ x 34′
Weight: 4,899 lbs.
Use zone: 37′ x 46′
Price:
5″ outside diameter posts
$42,711.00†
Model# 911-135B
3.5″ outside diameter posts
$36,556.00†
Model# 911-235B
† Price excludes shipping and handling.
Construction and Installation
In the Washington, D.C. and Baltimore metropolitan area, we furnish and install playground equipment. We can also move existing equipment, and demolish obsolete, dangerous playgrounds. Other related services include grading, drainage, resilient surfacing, borders, and retaining walls.