A playground border made of plastic borders stone theme is a great way to add border edging to your playground, garden or outside area. In addition to stone theme playground borders, we carry many other types of styles and sizes. For questions or a custom quote, please call 877-840-0707
Get the appearance of stone without the cost and effort of building a real stone wall. These plastic timbers require no expertise or special tools to install. Also, unlike many plastic timbers, these stone-themed timbers can be stacked 2 levels high, for a total height of 20″.

48″ long x 10″ tall by 6″ wide (Note: Only 42″ of the border's 48″ length is exposed. 6″ connects into the next timber.)

These stone-themed plastic borders are available in color gray only.

Hollow polyethylene, with molded-in ribs for strength.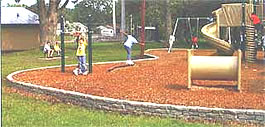 The ends overlap, and the timbers are fastened with 30-inch galvanized spikes that drive into the ground. Just line them up and drive the spikes. If you are stacking the timbers 2 levels high, you will use spikes that measure 40″ long.
How to order Plastic Border Timbers
We ship plastic borders nationwide. To get a custom quote, simply fill out the Request Form or call us direct at  877-840-0707.