RunAbout baby buggies are a new line of child transport buggies from Angeles. The RunAbouts are the Mercedes of child transport vehicles. They're available in 6 seats only. The frame is made from powder-coated steel, and it is welded for extra strength and durability. Each buggy comes with the canopy, which has adjustable sunshades that can be lowered on both sides of the buggy. Each RunAbout buggy arrives at your door fully assembled, with the following great features: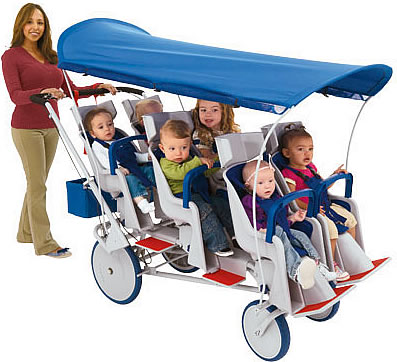 Seats The seats are soft and padded. They're made from polystyrene foam and covered with soft cotton fabric, which means that they're easily cleanable. Each seat reclines 35 degrees. They accommodate children up to 40 lbs. The heights of the rows of seats are staggered, so that every kid gets a view of the action. Each seat has a headrest and a five-point harness system. Each seat also has a "napping bar" (shown here in color blue) that can be removed.
Tires The tires are made from solid polyurethane airless tires, and the wheels are spokeless, so you'll never catch a flat tire. The wheels swivel 360 degrees.
Steps The step next to each seat is made from heavy duty materials. They have treads, to help prevent slips and falls while loading and unloading.
Parking Brake Each RunAbout buggy has a commercial-grade secure parking brake. They also have a secondary slow-down braking system. There's a foot brake and a hand brake.
Steering Each RunAbout buggy has a telescoping padded handlebar adjusts from 36″ high to 43″ high, to accommodate the height of the adult pushing the buggy. Foot push bar for easy curb access.
Storage At the back of each buggy, below the handlebar, there is a fade-resistant storage compartment. It measures 26″ long x 7″ deep x 6-1/2″ high
Recommended Ages 6 months and up
Storage cover available for $119.95 for either model of RunAbout buggy. The cover is made from fitted polyester, and it fits snugly over the buggy from above. The cover is water resistant and color-stable. Color: blue, with yellow and red Angeles logo.
Baby Buggies :: 6-Seat RunAbout Buggy®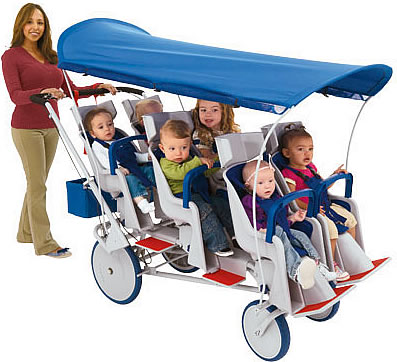 Price:$2,850
Dimensions:
With canopy 66″ long x 28″ wide x 42″ high. Without canopy 66″ long x 28″ wide x 57″ high with canopy. (The width of 28″ is slim enough to fit through standard doorways.)
Weight: 141 lbs.
Model Number: AFB6850F